Spotlight on Equine: Oliver Atkin & Emilie Larson
06 April 2021
Markel International, London
Underwriter Oliver Atkin & Assistant Underwriter Emilie Larson, share a spotlight on the Equine team and explain how their products and services free the performances of their clients, see the below interview;
How do your teams services free the performance of our clients?
"We work closely with our brokers to stay one step ahead and provide our clients with the freedom to operate knowing that a midterm change has been foreseen by us and their horses remain covered. An example of this would be mapping out at inception any races or competitions on other continents for which international travel and cover will be required later in the policy. We may also look to pre-agree a new value in advance should a client's horse win a potentially stallion making race during the policy period, with that new level of cover automatically kicking in as the horse crosses the finish line in first. In such cases, the client is freed from the concern of having to renegotiate cover straight after a race and can plan the horse's next step or breeding career without having to immediately worry about their insurance."
How does your team help give clients the confidence and freedom to perform at their best?
"The bloodstock industry is a seven days per week world, all year round. With the week's top races usually taking place at weekends across the globe, we look to bring value as underwriters by providing a superior and efficient service to our clients at all times during the week, Monday to Sunday, in order to give them the freedom to perform at their best. Horses are often re-valued as soon as they cross the finish line in front, or traded post-race, and Markel want to be there to immediately provide our clients with the protection they require for their equine assets."
If you had to sum up your team in one word, what would it be?
"Effective – we have had to adapt our way of working over the past twelve months, as everyone has, to suit both the needs of the business whilst making sure the team maintains a good work and home life balance. With the support of Markel, Rob, and Juliet, this has been easier than imagined. With two new babies added to the team in 2020, and one more due in 2021, ensuring that everyone has the ability to be flexible in their working is always in the forefront of our minds!"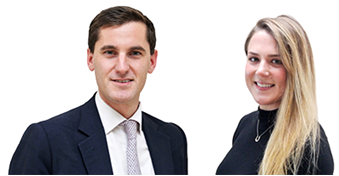 Oliver Atkin - Underwriter (left)
Emilie Larson - Assistant Underwriter (right)
Our equine team is well established and recognised as a market leader. We offer a wide portfolio of products including bloodstock and equine liability to suit a broad range of risks, from large stud farms to individual horses. Click here to find out more.
ENDS
About Markel International: