Markel International raise £230K for UK charity Smartworks
25 November 2021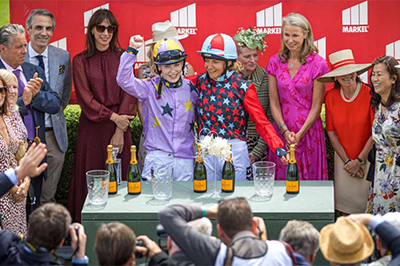 Markel International, London
Pictured: Joint Magnolia Cup winners Candida Crawford and Thea Gosden collecting their trophy from Markel's Juliet Redfern, divisional managing director, equine and livestock.
Markel's efforts for sponsoring the 2021 running of the prestigious Magnolia cup, have helped raised a phenomenal £230,000 for UK charity Smart Works.
The Magnolia Cup presented by Markel at the Qatar Goodwood festival, has helped to raise a phenomenal £230,000 for UK charity Smart Works.
This marks a new fundraising milestone for the annual charity race conceived a decade ago and run on Ladies' Day at the Qatar Goodwood Festival in July. Each year a number of courageous women take to the saddle and gallop to the finish line at death defying speeds, all in the name of charity. These women are the true stars of the show, their commitment and dedication is a true inspiration to many. This year saw the first dead heat in the history of the race when Candida Crawford and Thea Gosden galloped to glory, leaving the judge unable to split the pair at the finish.
This year the total means the race has now raised over £1.8 million for charitable causes since its inception.
Kate Stephens, CEO of Smart Works, commented; "It was an honour to partner with Goodwood Racecourse for their renowned charity event, the Magnolia Cup presented by Markel. We're thrilled that this partnership has raised a record-breaking £230,000 to support unemployed women at a time when this could not be more needed or relevant.
"We are truly grateful to Goodwood, The Duke and Duchess of Richmond, and the sponsors, trainers, and owners who made this possible. Not to mention the jockeys whose dedication, resilience, and determination were inspirational to all of us. This incredible result will help us help over 5,000 women this year, transforming the lives of women and the families they support. Thank you from everyone in the Smart Works community."
Simon Wilson, president of Markel International commented; "We are so proud to be a part of the Markel Magnolia Cup. The support that Smart Works give to women across the UK is critical. We are thrilled that we have been able to play a part in providing important funds so their work can continue"
As part of a three year deal Markel will once again present the eleventh Magnolia Cup in 2022 - which will take place on Thursday, 28 July.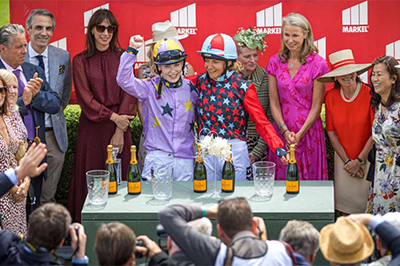 About Markel International: