A day in the life of an apprentice: Kendall Jordan
24 January 2022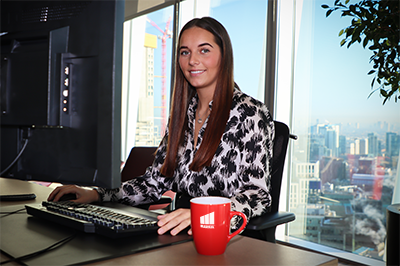 Markel International, London
We asked our cyber apprentice, Kendall Jordan, to share what her typical day looks like, along with any advice she would give to someone considering an apprenticeship programme at Markel. Read the full interview below;
Describe a day in the life of your role at Markel.
My name is Kendall Jordan and I am an apprentice in the Cyber team at Markel. On a day to day basis I work directly with the underwriters in my team to complete a variety of tasks, whilst also completing specific learning tasks which I get set on my apprenticeship. With the apprenticeship, we are required to take 3 exams in 18 months so depending on the time of the year I may be completing both my day to day job role and also studying for my CII (industry) exams. I have thoroughly enjoyed working as a member of the team and as an apprentice as it has enabled me to broaden my knowledge of Markel and the Industry as a whole.
What attracted you to the insurance market?
I was attracted to the insurance market as it is a stable industry as people/businesses will always need insurance. I also liked as a school leaver (going straight into a job role) that the insurance industry would give me the opportunity to sit my industry exams to further develop my skills and understanding in order for me to further my career. I was interested in finding out more about how this industry is evolving to meeting heightened regulatory demand and seeing how we can protect the business and clients against growing threats such as cyber.
What skills do you think are vital to success in the insurance industry and at Markel?
I would say the most important skill you need in order to succeed in the insurance industry is communication/interpersonal skills. This is because in this role you will be exposed to both underwriters at Markel and also external brokers. This may sound daunting when you start but it will be hugely beneficial as it allows you to broaden your network and create the contacts for when you start to underwrite business yourself. It is essential in my role that I am able to communicate with my team effectively in order to complete my work to the best of my ability.
What advice would you give to someone considering an apprenticeship scheme at Markel?
My main advice if you're applying for an apprenticeship programme would be that you need to be willing to learn, as I mentioned earlier you are required to take your CII exam which consists of 3 exams. So you need to be able to ensure you're putting enough time aside to complete your studies. You're also set tasks with the company who guide you through the apprenticeship so you need to be driven to complete these. Markel are very supportive when it comes to self-development. As an Apprentice Markel recommends that 20% of your time a week is spent learning outside of your job role, so it makes it easier to set this time aside. Although it sounds tricky juggling both work and studies, you'll come out at the end of the 18 months with a qualification which will help you to understand the work that you're doing even better and to further your career.
Kendall Jordan
Cyber Apprentice
Our school leaver programmes are a great opportunity for those that don't wish to go to university. Not only will you be gaining valuable experience through on-the-job, technical and professional skills training but we will also support you through an apprenticeship relevant to your chosen field. You'll remain with your core team for the duration of your programme, allowing you to become an expert in your field. We are committed to you and your career, and so our school leaver roles are permanent roles from day one.
To find out more about our apprenticeship programmes, click here.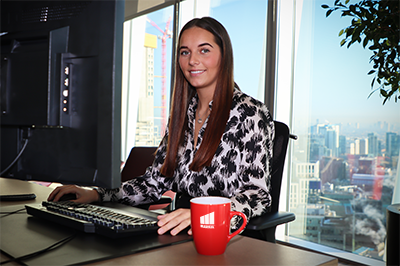 About Markel International: