We are established and well-recognised market leaders in equine and livestock insurance, offering a wide portfolio of products to suit a broad range of risks, from large stud farms to individual horses and covering all uses across farm, zoo and other animal interests.
We also cover equine liability and farm combined risks alongside mortality risks for animals, as well as disease and business interruption for livestock. We have a deep understanding of the equine and livestock industries and clients put their trust in us because of our extensive knowledge of the niche sector in which we operate. We lead the majority of all the business we write.
We set ourselves the highest standards of service. We value our relationships and continue to evolve our offer to ensure we keep up with your needs in an ever-shifting market. We appreciate our clients are based across the world, and so we offer an extended-hours service so you can contact us wherever you might be. Our dedicated equine direct insurance in France provides market leading cover directly to individuals where needed in Europe.
Whether it's the livelihood of a racehorse, protecting your livestock, or moving an animal from one end of the world to the other, our products and services free your business so you and your assets can keep performing at their very best.
Products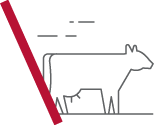 Livestock
We offer a wide range of cover including farm combined, mortality, disease, and business interruption across farm, zoo, and other animal interests.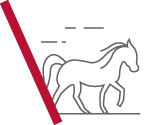 Equine
We offer a wide portfolio of products including bloodstock and equine liability to suit a broad range of risks, from large stud farms to individual horses.
Juliet Redfern
Divisional Managing Director, Equine and Livestock
Juliet.Redfern@markelintl.com
"I'm very proud to lead the amazing group of people who make up the equine and livestock team. Our niche, expert knowledge and passion for our industry, combined with the way we operate so cohesively as a team is our greatest strength."