We designed Cyber 360 to safeguard businesses before, during and after a cyber-attack, and do more than just protect and promise to pay. With a panel of experts, we offer a range of resources to free you when you need it most. From breach response, incident management, legal, forensic investigation, credit monitoring and call centre management, loss control and public relations, we're with you. And our 24/7 claims line means you can contact us anytime should the worst happen.
Cyber coverage options
We can offer line sizes up to £/€/$10m on Company or Lloyd's paper. In Asia, our local currency maximum line sizes are HKD 75m and SGD 10m. We write business on a primary and excess basis, and we write business on a worldwide basis (excluding sanctioned territories).
Key coverages include:
Third-party liability

Cyber and privacy liability
E-media
Professional and technology services liability

First-party loss (on a first-discovered basis)

Privacy breach notification and mitigation costs
System and data rectification costs, including bricking, to full limit
Business interruption extends to critical service providers, system failures, and preventative shutdown
Extortion costs cover
Regulatory investigations and fines, including PCI DSS
We are able to participate on global cyber programmes, for the very largest global cyber risks, whether on a co-insurance, excess layer, or primary basis. We will consider doing so on a direct or reinsurance basis, and can happily work with self-insurance or captive backdrops.
We are also able to consider cyber binding authorities, lineslips, providing capacity to MGAs, or via similar facilities where SME cyber is often transacted. We recognise the need for efficiency in this small business context.
While our Markel Cyber 360 policy is a standalone primary cyber insurance product, aimed typically at entities with revenues between £/€/$25m and £/€/$1Bn, we are happy to consider sizes outside this threshold.
We target a wide spectrum of industries and are happy to consider the unusual.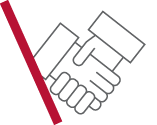 Partners
Learn more about the companies that Markel contracts with to provide Cyber 360 policyholder services.
Contact our experts
United Kingdom